Lose Your Stuff, Find Yourself
Are You Feeling Overwhelmed and Stressed?
Within these bite-sized chapters filled with practical advice, real-life situations, and motivational stories, you'll discover how to:
• Do the emotional work required to get more organized
• Create a life that is free of clutter so you feel more peaceful
• Have clarity of what's important and what's been holding you back
• Make practical decisions on belongings, based on your future plans
Your Stuff is Sabotaging Your Life.
Resolve to Take Control with
Lose Your Stuff, Find Yourself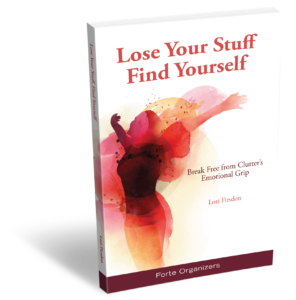 The book is designed to be a resource when you are faced with emotional roadblocks and you need the strength to carry on. Purchase TODAY in print or digital format on Amazon. Printed copies are also available at most speaking events and seminars.
Author and Professional Organizer, Lori Firsdon started Forte Organizers to share her gift of organizing and her passion for helping people succeed. She provides consulting service to individuals and companies, while also being a sought-after professional speaker. This is her first book in an upcoming series.